Locate the required applications within the Application Gallery.
In this article
The School Passport Application Gallery is a collection of software-as-a-service (SaaS) applications that have been pre-integrated with School Passport. The collection offers many applications that make it easy to deploy rostering, configure single sign-on (SSO), and automate user provisioning.
Overview
To find an application when signed in, navigate to Connect, and go to the Application Gallery.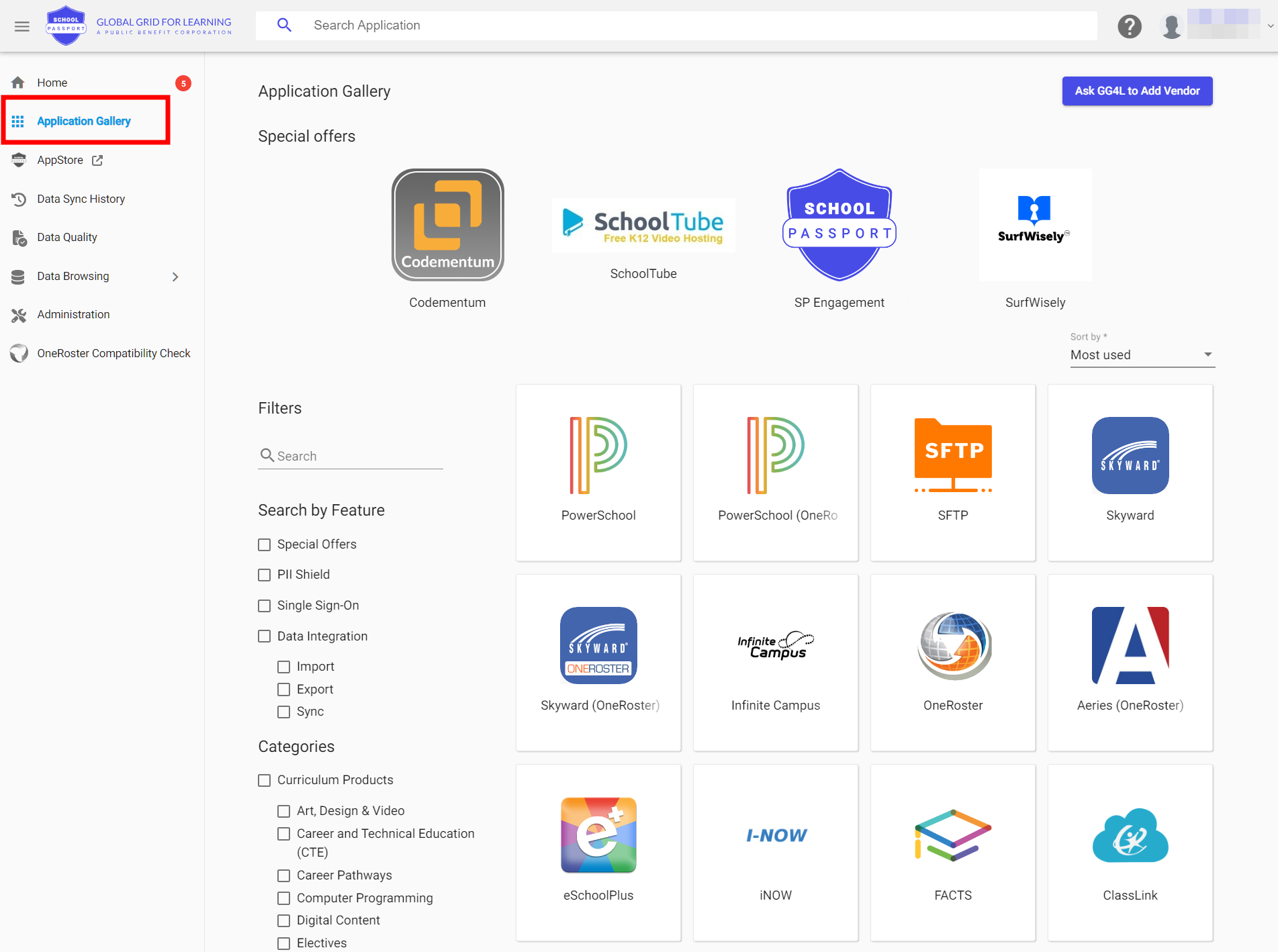 The applications offered in the gallery enable users to connect to and use cloud-based applications via the Internet.
The following benefits of using applications are available in the gallery:
A quick search finds the needed application.
Discover the best possible features for the application, like SSO or PII Shield.
Applications in the gallery
The Application Gallery contains large numbers of applications that have been pre-integrated into School Passport.
When searching for an application, you can also specify the following filters:
Special Offers: Get access to applications that offer on-demand provisioning and seamlessly integrated single sign-on (SSO) functionality.
PII Shield: Find Vendor applications that have already activated the PII Shield feature to safeguard your data. For more information about this feature, see PII Shield.
Single Sign-On: You can search for applications that support SAML SSO.
Data Integration: Find an application based on its type. Learn more about application type.
Categories: Applications that are added to the Application Gallery can be categorized into specific categories such as Curriculum Products, IT Infrastructure, or Administrative Tools.
If you are unable to locate the desired application, you have the option to request its addition to the gallery. To do so, simply click Ask GG4L to Add Vendor on the top-right corner and submit a request to GG4L. This will enable you to add a specific EdTech application for a school or district that is currently not available in the system.
Next steps
Get started by adding your first application using its instructions.