This article provides an overview of the steps you need to take to become a District Admin, including how to creare and set up your district account.
To get started as a District Admin, you will need to have a basic understanding of educational technology and be familiar with the Connect module of School Passport.
Overview
Being a District Admin can be a rewarding and challenging role in education technology. The School Passport is designed to simplify the process of accessing digital learning resources, making it easier for teachers to manage their classrooms and for students to engage in online learning. As a District Admin, you will play a critical role in ensuring that the portal runs smoothly and that all users have access to the resources they need.
Start collaboration with School Passport
To start using School Passport Connect as a District Admin, the first step is to create a new district account, which is a simple process.
Step 1: Fill out the registration form
The first step is to fill out and submit the registration form. In this form, you need to provide information about your educational institution, apps that you already use, and contact information. Please note, that the first Primary District Admin in your district will be created based on the information provided in the form.
Step 2: Process request
GG4L District Onboarding Team will review your request and contact you if additional information is needed. If everything is fine, initially you'll receive two emails. One will contain a link to activate your account, and the other will provide instructions on how to upload data to your School Passport. Please note that the link to activate your account will only be valid for 24 hours.
Step 3: Share your data the first time
Once your data is successfully uploaded, you'll get an email asking you to share your data with the app you specified during registration. If SSO is needed for your integration, you'll get an email containing all the required data for testing before going live.
Step 4: Complete onboarding
Congratulations! You have successfully completed the onboarding process for a new District Admin on School Passport Connect. You are now ready to start managing your district's roster and activate other powerful apps to support your student's learning journey.
Begin using School Passport
To get started with School Passport, the first step is to sign in to your account. For a step-by-step guide, please refer to the Sign In and Out to School Passport Platform.
Once you've successfully signed in, you will be directed to the main page. On this page, you will find a variety of SSO and resource tiles that you`ve created for your organization, and School Passport modules: AppStore and Connect.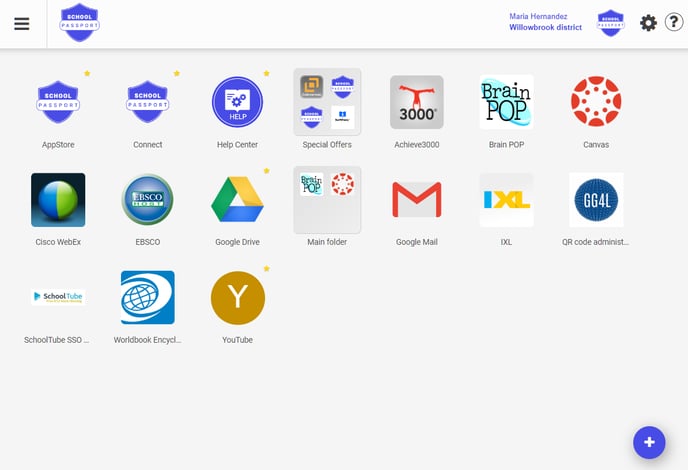 Next steps
Suggested next steps to explore School Passport Connect further include:
Import data from your data source or SIS via API or SFTP.
Activate a new Vendor app according to app instructions.
Sync data.
Send a data-sharing request for the Vendor to make changes to the sync process.