GG4L is a middleware company that provides SSO to Coursera from the list of LMS' and the sync of grades from Coursera to the LMS grade book. The integration includes the setup of an LTI tool in the LMS and synchronization of the set of Coursera programs (courses) to the School Passport Connect platform.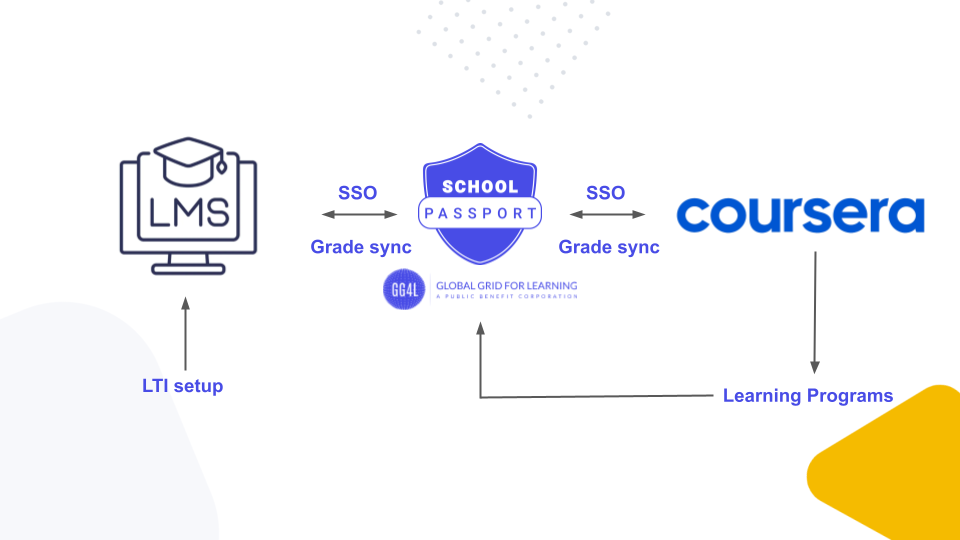 Here are the steps of the integration:
GG4L receives the API Onboarding Credentials from Coursera to access the set of activated programs for the educational institution's Coursera account.
GG4L Support Representative provides the instructions on how to set up the LTI tool in the LMS. If required, the Support Representative can walk the LMS administrator of the organization through the integration setup.
The LMS administrator sends GG4L the values listed in the instructions (secret keys of the LTI tool).
Support Agent sets up a connection with the created in the LMS LTI tool.
The Instructor publishes the links to the Coursera courses/assignments in the LMS course shell.
The students click the links and get redirected to Coursera.
- If an account for the user's email address already exists on the Coursera platform, the users should enter the password during the first login.
- If there is no account for the email created yet, the user creates it during the first SSO attempt and sets up the password.
The next time the user enters the Coursera course (completes SSO) via the published link in LMS, the user gets redirected to Coursera course content automatically.
As soon as the student completes the course (with a result of over 80%) or assignments, the grades are transferred back to the LMS grade book. Here you can find the possible options for grade synchronization.


Choose your LMS to learn more information about the integration

| | |
| --- | --- |
| | |
| | |
| | |