GG4L is a middleware company that provides SSO to Qwiklabs from the list of LMS' and the sync of grades from Qwiklabs to the LMS grade book. The integration includes the setup of an LTI tool in the LMS and the activation of Google Certificate courses.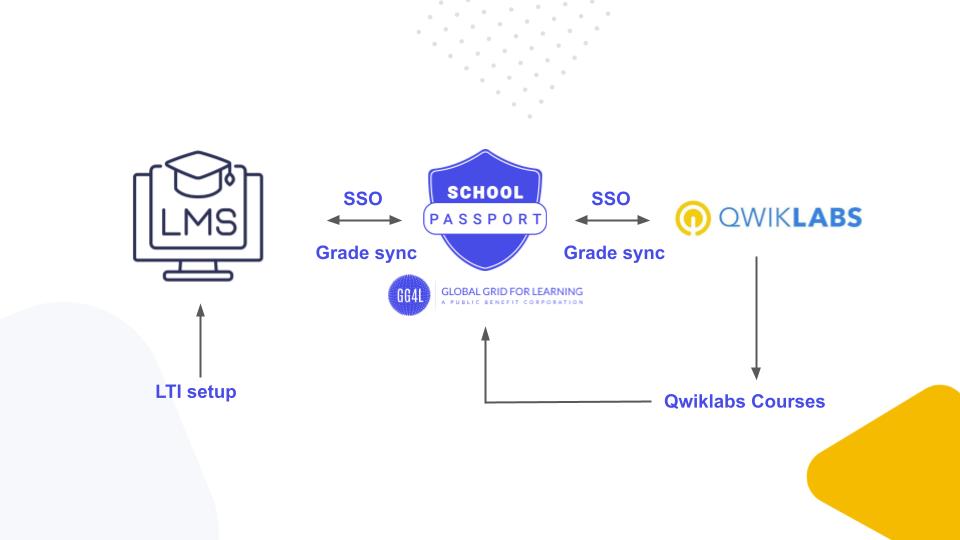 Here are the steps of the integration:
GG4L provides instructions on how to set up the LTI tool in the LMS. If required, the GG4L Customer Support representative can walk the LMS administrator of the organization through the integration setup.
The LMS administrator sends to GG4L the values listed in the instructions (secret keys of the LTI tool) and informs which of 2 offered grade sync options they would prefer to utilize.
GG4L Customer Support agent sets up a connection with the LTI tool created in the LMS. The deep links to the modules of the chosen Google Certificate course are generated on the School Passport Connect platform by the GG4L Customer Support agent.
The Instructor publishes the links to the Google Certificate course modules in the LMS course shell.
The students click the links and get redirected to Qwiklabs. The accounts for users are created on the fly during the first SSO.
As soon as the student completes the course/assignments (with a result of over 70%) the grades are transferred back to the LMS grade book. Here you can find the possible options for grade synchronization.
Choose your LMS to learn more information about the integration

| | |
| --- | --- |
| | |
| | |
| | |
Note: you can find answers to the most common questions in the Qwiklabs Q&A article.